UN Sustainable Development Goals 1 – No Poverty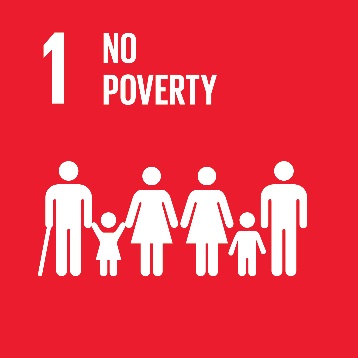 Giving World is committed to achieving the UN Sustainable Development Goals, which provides a blueprint to achieve a better and more sustainable future for all by 2030. Giving World actively contribute to SDG 1 No Poverty and for 2020, the vision is to do even more to help lift the most vulnerable people out of poverty.
Poverty is a complex and persistent problem that many face in the UK and around the world. There are an estimated 14.3 million people living in poverty in the UK, with 4.6 million of these are children. The reality of living in poverty means many people are constantly dealing with insecurity, uncertainty and tough decisions about money.
Giving World is actively working to help relieve the pressure individuals and communities caught in poverty face by sourcing, using and distributing the huge surplus of products created by many UK businesses. Giving World supports over 300,000 people in the UK with key life essentials. In 2019, over 1 million brand new products were distributed and delivered to those most in need, which is an incredible achievement.
Here's how we do it:
L Leverage the power of surplus goods – surplus (discontinued lines, over-production, last year's collections) is a natural cycle of business.
I Inspire community action – we engage a trusted network of donor business partners and charitable distribution partners, who reach disadvantaged people.
F Fulfil essential needs – essential items are provided to people facing crisis and hardship.
T Transform lives – lives are transformed through the provision of clothing, food, hygiene items and toys, giving people the breathing space they need to get back on their feet.
And here's our work in action:
"I am a single mum. The local area has very few services because many have been closed by the Council cuts. I have 4 children, 2 who have special needs. Giving World has been able to help me by giving me clothes and presents for the children. This has really helped our family budget, as we have financial difficulties. I would have struggled to make Xmas special with presents for each of my kids. The clothes have helped, especially the school clothes, which has helped prevent my kids being a target for bullying at school.
"I want to thank you and the companies who have donated the items, as without them we would have struggled even more with everyday life."
Poverty harms children's health and damages their future. It also damages our society as a whole – please help us in reducing poverty and transforming the lives of the most vulnerable people in our communities by supporting our stocktake appeal.
If you are clearing your warehouse or stock-taking between January and March then please help us by donating your surplus stock to Giving World.
Read more here: http://www.givingworld.org.uk/stock-take-appeal-2020