Jordan's Success Story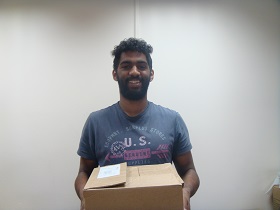 Jordan was referred to the Giving World skills programme by his employment officer at Leicester City Council.
Jordan says of his experience:
"My personal goals were to improve my confidence. Also, my leadership skills but that can only come from improved confidence.
"I feel that GIFTED has helped my leadership skills and taking control. My mum recently commented that I was confident when she overheard me talking on the phone."
Since improving his confidence and leadership skills at Giving World, Jordan has secured a Christmas job in a warehouse, completed his Level 2 Painting & Decorating course, volunteered at Barnardo's and completed an IT Diploma.
Jordan has definite plans for the future:
"Having emailed my CV I am waiting for an interview for an IT apprenticeship. My girlfriend and I are planning to find accommodation and move in together in Leicester. I'd also like to continue to support the programmes at Giving World."
Your unwanted stock can help our GIFTED participants gain life and work skills and then be distributed to other people in need. Please contact Bindu on 0116 251 9777 or email bindu@givingworldonline.com to find out more.