Help needed again…
Just as the world was starting to recover from the global pandemic, on February 24th Europe woke up to its worst crisis since the Second World War - Russia's invasion of Ukraine.
Barely a week on, Giving World received a cry out for instant food and drink and other essential supplies, as the refugees began pouring into Poland and the ability to get vital supplies for those in Ukraine became ever more tricky.
Although somewhat out of character as our core focus is alleviating poverty in the UK, however flexibility is key in the current climate. We are now global economies and the impact of Russia's invasion of Ukraine is being felt around the world by every country and all peoples.
So we put a call out to our corporate donors... the response was overwhelming! Large and small, our fabulous network of companies quickly came to the aid of those suffering unimaginable horrors as donations of vital supplies came rolling in.
Amazing.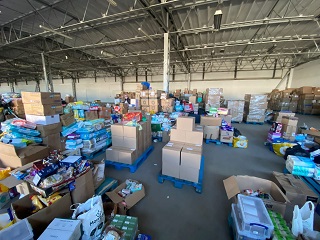 In turn, working with partner charities in Chelm on the Polish/Ukraine border, Giving World has been rolling out trailers of instant noodles, soups, coffee, toiletries, clothing, bedding, medical hygiene supplies and much more to support refugees at the border and for onward distribution into Ukraine.
(Above: the storage depot at Chelm)
We're dealing with matters of such intertwined complexity in the world today that the mind truly boggles under the weight of it all: war in Europe, worsening supply chains, fuel and energy instability, rising prices, the list can go on.
However, at its most basic level what we know is that the severest impact will be felt by those already struggling financially. And there will be many, many more newly vulnerable children and families this year.
So please continue your generosity to help us help them.
Whether you have bedding, wound dressings or instant foods for Ukraine or whether its toiletries, nappies and clothing to help those here in the UK, please get in touch with Bindu with details of any product surplus you have. Bindu can be reached on 0116 251 9777 or email bindu@givingworld.org.uk.
Thank you.