Giving World and… Eastenders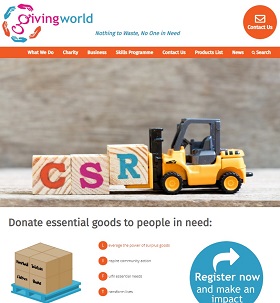 It is with much pride (and exhaustion) that we announce the launch of our brand spanking new website.
We think it looks gorgeous, and we hope you do too.
It's packed with news and features, however the hero functionality of the site is the simplification of distributing your surplus goods.
Go take a look around.
The main thing to remember however is the address change.
It's now http://www.givingworld.org.uk/
If you have the old site bookmarked, don't worry - it will redirect you to the new one.
Please do let us know what you think of it by sending your feedback to: admin@givingworldonline.com
Especially if you spy something wrong. But if you think it's fabulous do let us know too!
We also have another bit of news we would like to share. Our volunteer Linda Davidson, returned to Albert Square, for one night only, last Tuesday.
If you missed it, you can watch her play the iconic EastEnders character Mary 'The Punk' Smith here.
Enjoy!