Christmas Appeal 2019 – Thank you so much!
We wish you a very Happy New Year!
A decade has ended and another one begins and as we draw the curtains on a purposeful 2019 we look forward to achieving more in 2020.
At the heart of Giving World, we put the UK's most vulnerable people first.
With your generous support in 2019, together we redistributed 1,109,615 products, entirely brand new surplus to 356,594 vulnerable people across the UK - this saved businesses a combined 6,853.6 tonnes of CO2e emissions from landfill.

We had an incredible response in support of our Christmas appeal, thank you for all of you who made this happen. With your help we provided gifts for vulnerable children in the UK, especially those that are living in temporary accommodation, so they would have a present to open on Christmas morning.
We reached over 30,000 children, bringing a smile to their faces and making a very special Christmas that would otherwise not have been experienced.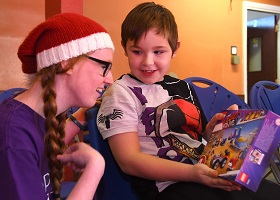 Children were appreciative and very grateful for the gifts they received.
Thank You!
Giving World is committed to implementing the following UN Sustainable Development Goals for the UK. We will be taking this forward throughout the coming year.
No Poverty – providing resources
Zero Hunger – provision of food
Good Health and Wellbeing – life essentials
Quality Education – uniforms, educational resources
Gender Equality – non-discriminatory policy – we support everyone in need
Sustainable Cities and Communities – supporting communities
Climate Action – meeting environmental goals by repurposing surplus
You must be exhausted just reading that...
Our vision for 2020 is to do more - to lift vulnerable people out of poverty, and we are asking for your help by supporting our stocktake appeal. If you are clearing your warehouse or stock-taking between January and March then please help us by donating your surplus stock to Giving World. Read more here:
http://www.givingworld.org.uk/stock-take-appeal-2020
Millions of families and children will start this year with unimaginable challenges, from poverty and neglect to poor mental health, and related issues – these lives have been stolen by poverty.
We are looking forward to working together with you this year to make a difference in the lives of the most vulnerable people living in the UK.
Oh and ps. we've just signed up to Amazon Smile.

Support us by shopping at smile.amazon.co.uk. When you shop at smile.amazon.co.uk Amazon will donate to Giving World, at no extra cost to you. Please support us every time you shop.