Bleak Houses
The Bleak Houses report by the Children's Commissioner for England estimates there could be more than 210,000 children without a permanent home in England.
It costs us just 51p to help a vulnerable family - you can donate here.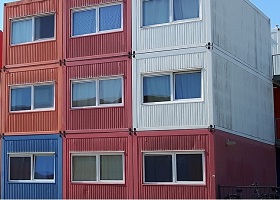 Child poverty in the UK is a silent scandal. While we remain the 7th wealthiest country in the world, we have the highest rate of child poverty in the industrialised world.
Almost a quarter of a million children don't have a permanent home in England due to a shortage of social housing. Families are therefore forced to improvise and instead are living in unfit accommodation like disused office blocks, shipping containers and, if they're lucky, bed-and-breakfasts.
The Children's Commissioner, Anne Longfield OBE, published a report which "shines a light" on the "disruptive and frightening impact on their lives". She has dubbed the situation a "scandal" while children's charities have described such accommodation as "poky, dangerous conditions which belong in a Dickensian novel".
The report, entitled 'Bleak Houses: Tackling the crisis of family homelessness in England', estimates that there could be more than 210,000 homeless children in England. Of them, 124,000 are officially homeless and living in temporary accommodation, with around 90,000 children living in 'sofa-surfing' families.
However, the total figure is likely to be higher due to a lack of data on the number of children placed in temporary accommodation by children's services.
The Children's Commissioner said: "Something has gone very wrong with our housing system when children are growing up in B&Bs, shipping containers and old office blocks. Children have told us of the disruptive and at times frightening impact this can have on their lives."
The Children's commissioner also expressed concerns about B&Bs being used as temporary accommodation, and creating "intimidating and potentially unsafe environments" for children.
The bathrooms are often shared with other residents and vulnerable adults, including those with mental health or drug abuse problems.
Of the 2,420 families known to be living in B&Bs in December 2018, a third had been there for more than six weeks - despite this being unlawful.
Furthermore, in 2017, around two in five children in temporary accommodation had been there for at least six months, and around one in 20 - an estimated 6,000 children - had been there for at least a year.
Almudena Lara, Head of Policy and Public Affairs at NSPCC, said that the data exposes the "awful impact on children when they are forced to live in such unsafe places."
"Homelessness has terrible consequences on a child's mental and emotional state, and families should not have to endure such a punishing way of life."
At Giving World we help these families in crisis by providing life essentials, like warm winter coats and new bedding, as well as children's Christmas packages.
It costs us 51p for a single intervention.
You can help us help these vulnerable families right here in the UK by donating here.