Acting on Poverty… Now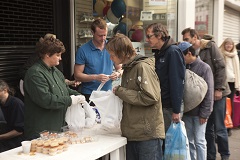 We think this is probably the most important newsletter we have ever had to write.
Simply we need your help... to tackle the continuing fall out from Covid.
Need in the coming months is going to be unprecedented (that word again) however it absolutely is. Unprecedented.
Please help us to reach out to 100,000 more children, families and vulnerable people by Christmas, in the most deprived areas of the UK.
If you have any product surplus to donate, contact us here.
Here's a short video of the impact you will make.
Analysis published by the Trussell Trust, the UK's largest food bank provider, estimates that 846,000 food parcels will be distributed in October to December this year – with six given out every minute – as unemployment is set to rocket.
If food bank use is set to rise, we know from experience that covering life essentials like a warm winter coat, toiletries and household cleaning products have already become impossible and have become luxury items. Imagine how isolating for a family that must be.
A combination of people who had lost their jobs and weren't offered furlough, or had no recourse to public funds. Those still in work but with reduced hours, or those whose benefits that don't cover their needs or have to wait 5 weeks for payment; they are all going to need our help.
Earlier this year we helped David: "Only 4 months ago I was the director of a company and now I am bankrupt with maxed-out credit cards and a wife and children... I am so embarrassed... thank you so much for your package without it we would not have anything."
Please, we need your help now more than ever to stop generations of children from falling into disadvantage, and the unintended life long consequences of that.
Once again, if you have surplus to donate please complete the short details form here, or email bindu@givingworld.org.uk