A Tribute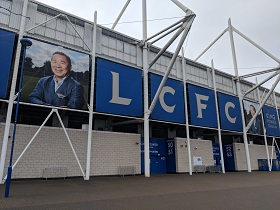 It's been just over three weeks since the tragic death of Vichai Srivaddhanaprabha in our home city of Leicester, but the football fans have already created a football anthem to honour his outstanding contribution to English football, and to Leicester especially.
The 60-year-old Thai billionaire was among five people killed when his helicopter crashed shortly after taking off from the King Power Stadium.
He bought the club in 2010, and initially the supporters were sceptical that Vichai was just another foreign investor rinsing the club for profits.
However Vichai wasn't just any old foreign investor, he was a fan. True to his word he cleared their debts and saw the club win promotion to the top flight four years later.
Incredibly, they then beat odds of a massive 5,000-1 to claim the much coveted Premier League title in 2015-16 in one of the greatest sporting stories of all time.
At the end-of-season awards after Leicester's remarkable Premier League title victory in 2016, the players, staff and invited guests were all celebrating.
The room truly erupted when an announcement that Vichai had just donated £1m to the nearby Leicester Royal Infirmary. It was an incredible gesture and one utterly typical of the humble generous man that he was.
Vichai preferred to stay out of the limelight and was a private man. Even when Leicester's title-winning fairytale was unfolding and everyone wanted a piece of the club, he stayed quiet.
Yet behind the public silence was a deep love for Leicester and a relentless determination to drive the club, and the city itself, onwards.
We pay tribute to the true legend that was Vichai Srivaddhanaprabha.
And as the fans will no doubt chant again this weekend...
'Champions of England, who made us sing that'
Vichai, Vichai, Vichai Srivaddhanaprabha...