A message of thanks…
What a strange few months it's been. We have been, just about, coping and working throughout.
The word unprecedented has been used a lot recently to describe this time. We want to use it to describe our experience too. We have seen unprecedented need. It has gone up by 425%. That is indeed unprecedented,
The media are not exaggerating when they report the existential crisis that the 14.3 million people living below the poverty threshold have experienced, and will continue to do so during this pandemic.
We have been responding to the devastating need by providing care packages to make incomes go further and to ease the lives of the shielded, the elderly, the homeless, low income families and NHS workers.
Thanks to your continuing support, we have been despatching essential supplies up and down the whole of the UK, items such as non perishable food, hygiene products and toiletries, baby products, art and craft materials, bedding and clothing, brand new business surplus products, and free.
Michelle in Durham for example:
"I recently found myself in the shielded group due to a cancer diagnosis. Due to chemo I couldn't leave the house and my 17-year-old son was not allowed to leave either due to my illness. As soon as I asked for help, I received a care package which had some extremely helpful items from a charity called Giving World. The care package included food items, a warm duvet and pillow and other items. I was over the moon with my package. This made a difference to me as it meant that I had food and other essential items and didn't have to leave the house."
Emma, a young person's advisor said: "I just want to say a huge thank you for the care package. I work with young people who often have no family support network. I collected a care package last week for a young person in crisis and was so heartened by what she received. It was abundantly clear from the package how much love and time had gone into making them. That package didn't just feel like it was for survival, it really did show her that people care about mental and physical well-being. Thank you, you really do make difficult times better."
And we've also supplied cotton bedsheets for the making of scrubs at the height of the PPE shortage, given to NHS staff and key workers in several hospitals, urgent care centres and care homes across Runcorn, Widnes, Halton and Warrington.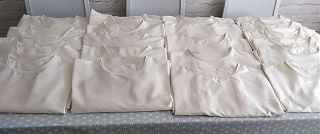 An estimated 1.1million* more people could find themselves living below the poverty threshold next year as job losses impact family incomes.
We are preparing ourselves for this increased need and need all your help. By partnering together, we can create lasting change. You can get involved through a range of exciting activities that both engage your employees and raise vital funds. More anon.
Our immense gratitude to all our donors. Thank you.
* https://www.ippr.org/news-and-media/press-releases/1-1-million-more-people-face-poverty-at-end-of-2020-as-a-result-of-coronavirus-pandemic-finds-ippr