Basic Skills
An 8 Week programme for 2 hours once per week, providing an opportunity to experience a working environment through processing donated products in a simulated warehouse. Up to 8 participants per cohort work as a team, gain confidence and connect to each other whilst engaging in a meaningful activity. The environment is fully supported.
What beneficiaries say
Kornel said of his work placement: 'The experience gave me communication, team building and practical skills that I feel helped me to secure a job with Primark. When I was team leader I learnt how to treat other people and team working. I've wanted a paid job for a long time and am looking towards the future when I can support myself financially, live independently, have a home and a family.'
Kornel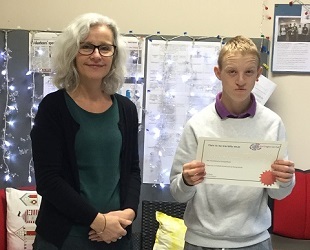 What our partners say
'The experience perfectly suits all my students – they have all improved their skills, thoroughly enjoyed their time and have all asked for more work at Giving World. Jo and all the peer mentors are brilliant in supporting my students and adapting to their needs.'
Elaine, Employability Support, West Gate School
Training in Employability Skills
A 12 Week programme for 3 hours once per week, processing donated products and preparing for work. The programme focuses on developing work-based skills such as time-keeping, leadership, personal responsibility, problem solving and CV writing in a fully supported, simulated warehouse environment.
What beneficiaries say
'I really liked the Packing Lounge as people understand and accept you for who you are. So when Jo and Caroline encouraged me to also do the Training in Employability Skills workshop I wanted to because it's fun. I'm building my social skills and friendships. I'm a caring person and I like helping people. I'm helping people in the team but I'm also helping the vulnerable people who receive the goods we sort.'
Sophie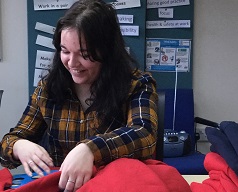 What our partners say
'Sophie was very isolated before joining GIFTED. She's become so much more confident and travels independently by bus now. She hopes to work eventually and I feel she's really begun this process on GIFTED. I know Sophie wouldn't attend if she didn't feel it was benefiting her.'
Caroline, Employment Officer, Leicester City Council